There's nothing quite like the feeling of getting behind the wheel for the first time. It's a new sense of freedom. Gone are the days of asking your mother or older brother for a ride, no more frantically following a bus schedule; you're the captain now.
But with great power comes great responsibility. It's easy to get caught up in the feeling of driving, and it can be especially stressful for parents to watch their teenager take their first ride. So, let OK Tire take the wheel. We've got you covered with a few helpful tips that will have your nervous parents resting easy and you enjoying the open road.
Each vehicle is unique and getting to know your vehicle inside and out will help you feel confident on the road. Figuring out where buttons are located and knowing where things are without having to search for them are key for staying focused. If playing music will put your mind at ease, we've got the perfect playlist to help you rock your first time on the road. To ensure that you're keeping your eyes and ears forward, consider setting up your music and adjusting the volume to a comfortable level before pulling out of the driveway.
Anyone who spent time as a Boy Scout or a Girl Guide knows that being prepared is the key to any situation. Keep safety essentials in your car, including a spare tire, emergency kit, jumper cables and auto tools so you're covered if something goes wrong.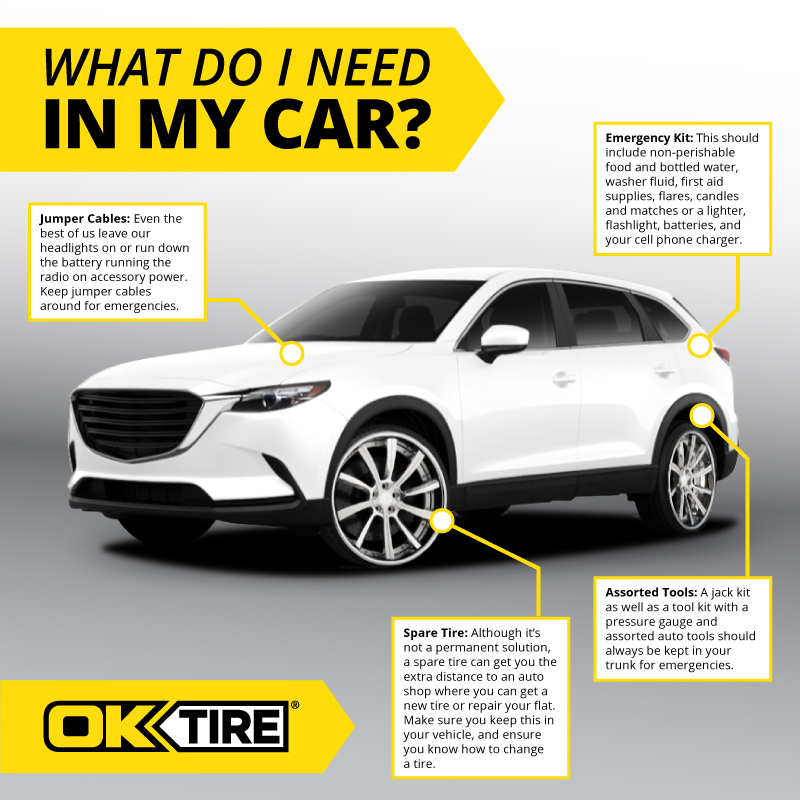 OK Tire, your one stop automotive shop, will inspect your vehicle and make sure you're road-ready. Preventive maintenance is key to ensure your car is safe to hit the road. Fluids, brakes and wheel alignment checks are all part of the preventative maintenance that can keep your vehicle in tip-top shape. Our certified technicians are also ready and available to perform an electronic shock or bounce test to ensure your shock absorbers and suspension systems are operating effectively. Good ride control is mandatory when it comes to safety. Worn suspension components may reduce the stability of the vehicle which can result in increased braking distance.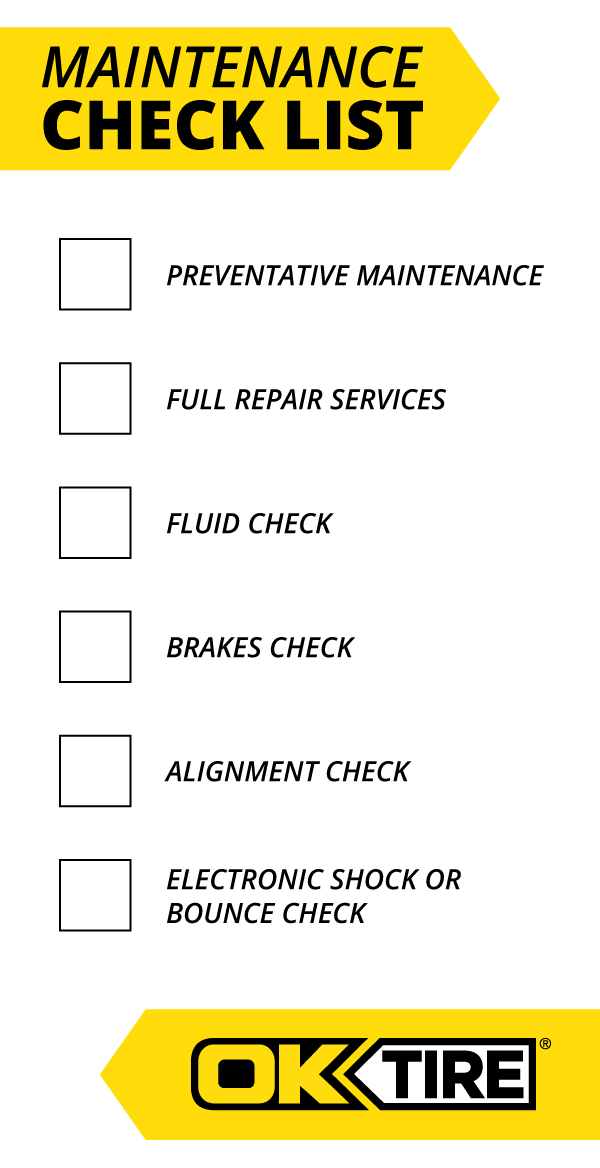 Having your cell phone nearby is a tempting distraction. It's easy to think it won't hurt to check a quick text or change the song. Taking your eyes off the road even for a second endangers everyone around you as well as yourself. Do yourself a favour: place your phone on silent and out of reach and enjoy the ride.
Wet road conditions may impact your tire traction, meaning a longer braking distance. It will also affect your visibility; make sure you reduce your speed and brake sooner to ensure you're driving safely.
Your driving should constantly adjust depending on surrounding weather conditions.
Whether it's your first time behind the wheel or you're a seasoned pro, these tips are sure to make your drive as smooth and enjoyable as possible.