Skip to content
We are experiencing significant delivery delays for orders originating from and to BC.
COVID-19 Update - Contact your local store for current store hours. Learn More
Gislaved, a brand of Continental.
Exclusive to OK Tire, Gislaved stands for 110 years of experience. Its Swedish heritage and leading position is expanded by constant development of new improved tire designs. The NORD*FROST 200 incorporates the latest technologies to deliver grip and safety standards at the highest level for all winter road conditions. For extra grip, a pre-studded option is
Gislaved is a brand you can trust for tire excellence in challenging winter weather conditions based on Nordic competence and experience in Nordic weather conditions. Gislaved's Swedish heritage and extensive background developing tires for the most demanding driving conditions meet the highest international quality standards.
As part of the global Continental AG, Gislaved has access to a truly global network of resources, expertise and technology allowing them to continually improve, refine and innovate their tire range.
Gislaved, a brand of Continental. Available in Canada, exclusively at OK Tire.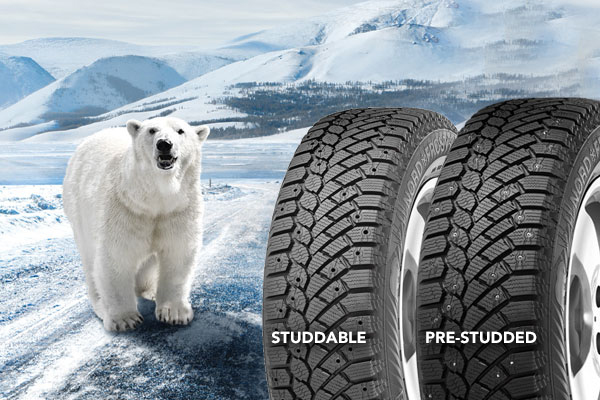 Gislaved. Gets a grip on black ice. Innovative technology. Outstanding effect.
Winter with NORD*FROST 200
The NORD*FROST 200, a studdable winter tire for passenger, light truck, and SUV vehicles, incorporates the latest technologies and safety testing to improve handling, shorten braking distances, and give an optimized grip on ice and snow. For extra grip, a pre-studded option is available on select tire sizes.
Improved studs with added value: Gislaved's Eco Tri-Star stud provides important benefits. Its low weight allows more studs on the tire and a significantly increased grip on ice.
Ice reservoirs: Reservoirs for crushed ice and a sophisticated channeling system ensure optimum road contact and shorter braking distances even in the most demanding braking situations.
Modern pattern design for improved handling: The new pattern design allows sipe interlocking and advanced lateral grip giving an optimized grip on ice and snow.
Snowflake approved sizes meet the severe snow service requirements of the Rubber Manufacturers Association (RMA) and the Tire and Rubber Association of Canada (TRAC)