Both awe-inspiring and intense, Canadian winters are a force to be reckoned with, especially when it comes to winter driving. Snow dusted trees and glistening snowflakes aside, Canadians are all too familiar with icy, slushy, and snowy roads across the Great White North when a snow storm suddenly hits. As this brings conditions that are less than ideal for driving, it's never too soon to be prepared. Knowing how to prepare yourself and your vehicle for the cold road ahead is the best way to keep you and your family safe this winter.
Here are five tips to help you master the roads this winter:
We all know cars require maintenance, but did you know a little preventative maintenance can go a long way towards staying ahead of winter driving difficulties? This includes fluid checks, suspension and ride control tests as well as general tune-ups to stay ahead of winter driving problems. Be sure to also get your shocks and struts inspected every 20,000 kilometres. This will ensure your suspension systems and ride control are functioning properly. After all, if you don't take care of basic maintenance, problems can be far worse down the road.
Make sure your tires are in-season
We change up our footwear to adjust to the changing seasons, so why wouldn't we change up our tires as well? While all-season tires can handle the milder temperatures and drier roads, winter tires are equipped for cold temperatures and slushy, snow-packed roads. With winter tires, the increased tread and specialized rubber compound ensures they stay soft and pliable while gripping the road and keeping ride control in check. Alternatively, if you drive in areas that experience a milder winter climate, you may want to consider all-weather tires as an option as they are also marked with the Three-Peak Mountain Snowflake symbol and can be used year-round with no changeover.
Nothing's harsher on a battery than the frigid cold, hence the unwelcome surprise when your car won't start on a chilly winter day. The best way to stay ahead of dead batteries and stuck cars is making sure your connections are tight, clean and free of corrosion. By regularly inspecting your battery, you've got one less thing to worry about in the winter months. How long does a battery typically last? The consensus is five years. If you can't remember the last time you changed a battery, it's probably a sign to get that taken care of for the season.
You won't have much luck taking in the winter scenery (or seeing the road at all) if your view isn't clear. Unless you have super powers, an obstructed windshield view is unsafe. Designed to resist wind and prevent ice and snow build-up, winter wiper blades are a great investment for tackling winter visibility issues.
Your washer fluid should also be changed to account for the temperature changes. Consider changing out your washer fluid before the winter months for one with detergent to withstand temperatures below -40 degrees Celsius.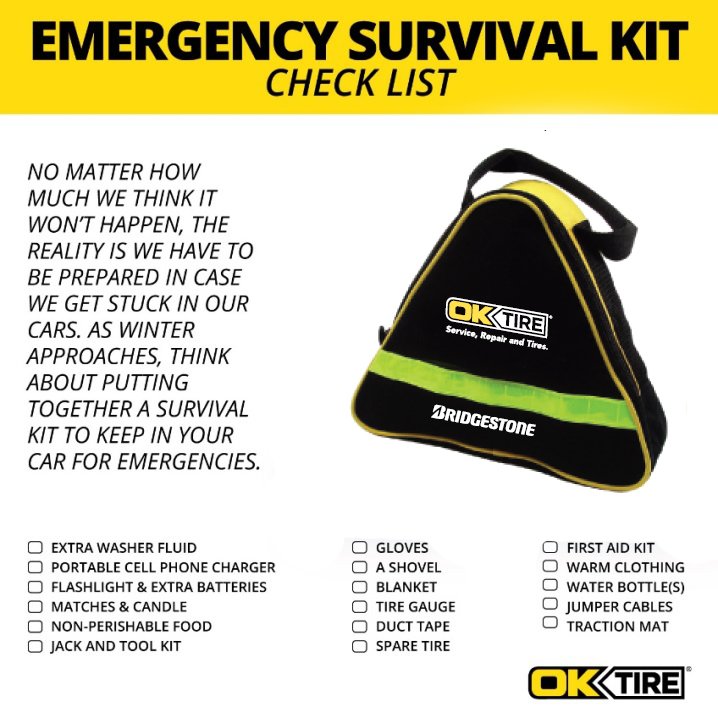 Winter can take us by surprise. Even though we might think it won't happen to us, getting into a situation where we're stuck in our car overnight or other "worst-case scenarios" are possible. Although we can't predict the future, we can certainly be prepared for the worst.

Keeping a survival kit in your car can put your mind at ease and keep you safe this winter. This includes emergency essentials such as a spare tire, tools, jumper cables as well as food and water.
With winter coming up, make sure to stop by your local OK Tire for a preventative maintenance check.
Back